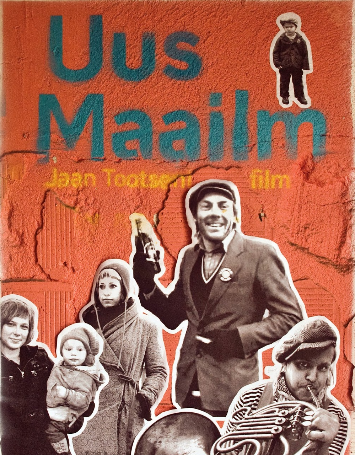 K0
Pode não ser adequado para menores de 0 anos.
MS12
Mitte soovitatav alla 12-aastastele.
The New World
2011
●

88m

●

Documentary

●

SD

●

Kuukulgur
Audio: Estonian
Subtitles: No subtitles
Anatomy of a revolution: this is the story about people, relationships and a big change. The New World is a district in Tallinn where there is a group of young active people - some consider them noisy roisterers, some think that they are some gang of hippies, and some take them as heroes. The members of the New World Society started as an anarchistic group of urban guerrillas whose mission was to fight for healthier and more car-free environment, causing issues of public order. However, at some point their efforts were crowned with appreciation, attention and financial support. What will be left of craziness when it has to be packed within a project at some point? How is it possible to keep alive the creative chaos throughout years? What about human relationships that won't obey the project logic?
Prize, Annual Award of AV Division of Estonian Cultural Endowment (Estonia), 2011, Documentary of the Year - to Jaan Tootsen, Jaak Kilmi.
Award, Virgin Maali - Estonian Association of Film Journalists' Annual Award (Estonia), 2011.
Award, Vilnius Documentary Film Festival (Lithuania), 2012, Second Prize.
Award, Millennium International Documentary Film Festival (Brussels, Belgium), 2013, European Award (Prix des Européens).
Participation, Jihlava International Documentary Film Festival (Czechia), 2011, Competition of Eastern and Central European documentaries: Between the Seas.
Participation, PÖFF - Black Nights Film Festival (Tallinn, Estonia), 2011, Baltic competition.
Participation, ONE WORLD International Film Festival On Human Rights (Bucharest, Romania), 2012.
Participation, DocPoint - Helsinki Documentary Film Festival (Finland), 2012.
Participation, Crossing Europe Film Festival Linz (Austria), 2012, European Panorama Documentary.
Participation, Rome Independent Film Festival (Italy), 2012.
Participation, SIFF - Sofia International Film Festival (Bulgaria), 2012.
Participation, Torino Film Festival (Italy), 2012.
Participation, East End Film Festival (London, Great Britain), 2012.
Participation, Kaunas Film Festival (Lithuania), 2012, Programme: Identity.
Participation, Helsinki International Film Festival – Love & Anarchy (Finland), 2012.
Participation, Aye Aye Film Festival (Nancy, France), 2012.
Participation, MESSAGE TO MAN - International Documentary, Short and Animated Film Festival Message to Man (St. Petersburg, Russia), 2012.
Participation, Filmfest Hamburg (Germany), 2012.
Participation, Split International Festival of New Film (Croatia), 2012, Programme: Country in Focus: Estonia.
Participation, Zagreb Film Festival (Croatia), 2012, Documentary competition.
Participation, TRANZYT - Documentary Film Festival (Poznan, Poland), 2012.
Participation, BIFF - Bergen International Film Festival (Norway), 2012.
Participation, Zemlika Film Festival (Durbe, Latvia), 2012.
Participation, This Human World - International Human Rights Film Festival (Vienna, Austria), 2012.
Participation, Victoria International Film Festival (Canada), 2013.
Participation, !f Istanbul International Independent Film Festival (Turkey), 2013.
Producer
Director
Writers

Jaan Tootsen | Jaak Kilmi

Camera Operators

Mihkel Soe | Jaan Tootsen | Jaak Kilmi | Erik Norkroos | Kullar Viimne

Composer
Sound Designeer
Editors

Marta Pulk | Jaan Tootsen

Sonud Enginers

Mart Kessel-Otsa | Jaan Tootsen | Taisto Uuslail | Olger Bernadt | Maarja Urb | Paula Help

Colorist
qualidade de filme SD
A qualidade da reprodução depende do hardware e da conexão à Internet.
Trailers
Alugar "The New World" por 48h
€3.90
The purchased movie can only be watched from one device, using one browser. Please make the purchase in the same device you wish to use for watching the movie. Do not use or make the purchase while using the "Private Browsing Mode" or "Incognito Mode".
| | |
| --- | --- |
| | Ao fazer um pagamento, aceito os Termos de utilização, Política de privacidade e Política de cookies da Netikino. Confirmo, entre outros, que tenho pelo menos 13 anos, aceito o início do fornecimento de conteúdos digitais e tenho conhecimento de que os conteúdos digitais estão disponíveis para mim e que o período de 48 horas para ver o filme começa no momento da realização do pagamento e, posteriormente, perco o direito de rescindir o contrato. |
Pagamentos seguros garantidos pela EveryPay
Permitir cookies!
Não é possível continuar a utilizar o serviço neste momento porque a escrita e leitura de cookies no seu dispositivo foi interrompida. Verifique as suas definições de cookies e tente atualizar esta página
Como funciona
O filme adquirido só pode ser visto num dispositivo com um navegador. Efetue a compra no dispositivo e no navegador que pretende utilizar para ver o filme. Não utilize nem efetue a compra enquanto utiliza o Modo de navegação privada ou anónima. Não elimine nenhum cookie do seu navegador.